Dental Implants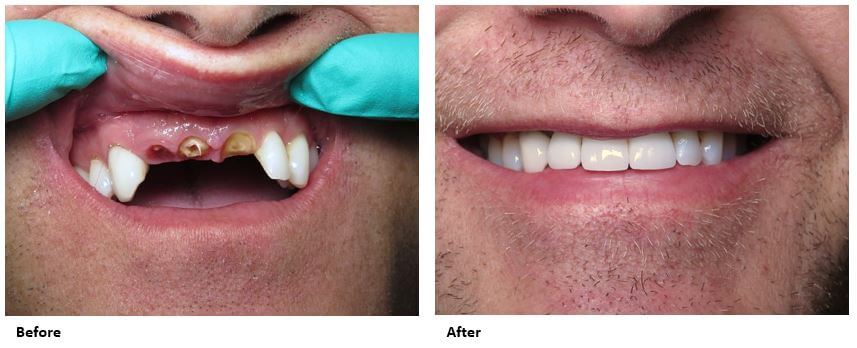 challenge
A patient came to me with three very broken down front teeth. These teeth had suffered trauma many years ago, and the patient had a long history of dental work on them as a result. He was looking for a long-term solution that would allow him to eat and speak normally, as well as provide him with a healthy smile.
diagnosis
All that was left of this otherwise healthy, adult male's teeth were the roots. With no tooth structure left, I suggested the best treatment alternative was replacement. Our options for replacement included implants, a bridge or a removable partial denture.
treatment
Dental implants are a great choice to replace missing teeth. While not appropriate in all situations, implants were an ideal option in this case. They allowed us to replace the missing teeth without damage to the adjacent teeth, while also achieving an excellent appearance and performance. The treatment process took several months, although, depending on the case, it can sometimes be faster. An oral surgeon removed the roots and replaced them with implant posts. After the surgery, I provided the patients with a removable partial denture, so he didn't have to go without front teeth. Once the patient had healed, I restored the permanent implants.
results
We were able to achieve very functional and esthetic results with the patient's dental implants. He can bite, eat and speak as well as he did before his teeth suffered their trauma. And his smile looks natural and appealing. No one would ever know he has implants. He can expect his implants to be a long lasting – if not permanent option – with good home care. The patient was extremely pleased with the outcome of the procedure.