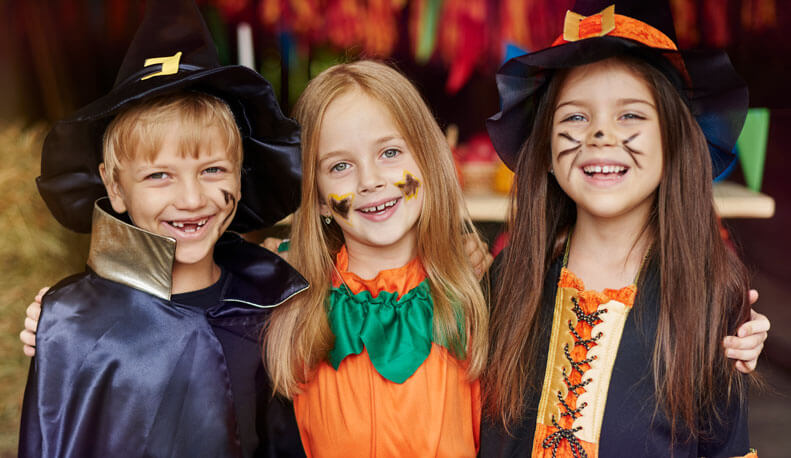 Halloween Dosen't Have to Be Scary For Your Teeth!
October 31, 2018
Today is Halloween, one of the most candy-filled holidays of the year.  And while kids may be excited for all the sugar, as a parent and a dentist, I'm concerned about their dental health. Below are some tips for making it through Halloween with your "Bootiful" smile intact.
Eat candy with or shortly after meal time and don't snack on it all day.
Saliva production increases during meals. This helps rinse away food particles and sugar and can cancel out some of the acids produced by bacteria in your mouth that cause cavities. Aside from how often you snack, the length of time sugary food is in your mouth plays a role in tooth decay. Eating just after a meal instead of all day limits the amount of time sugar has contact with your teeth.
Be picky about your candy.
Not all candy is created equal. Avoid hard candy and sticky sweets that stay in your mouth for a long time. These are some of the worst candies for your teeth because they cling to your teeth. The stickier the candy, the longer it takes to get washed away by saliva, increasing the risk for tooth decay. Biting into hard candies can break or crack a tooth, if you are not careful.  Sour candies are also bad for your teeth because they are very acidic. The acid can weaken and damage the enamel on your teeth, making them more vulnerable to cavities. 
Chocolate and sugarless gum are the best candy options for your teeth. Chocolate washes off your teeth easier than other types of candy and dark chocolate is even better because it has less sugar. Chewing sugarless gum increases saliva flow which helps wash away food and neutralizes acids produced by bacteria.
Drink water and maintain a healthy diet.
Drinking water is good for your body and your teeth.  Water helps prevent cavities by washing away the sugar clinging to your teeth. Eating a balanced diet has positive effects on your overall health as well as your oral health. "Filling up" on good foods can help prevent you from over indulging and bingeing on candy. Stay away from sugary drinks like soda, sports drinks and flavored waters. When teeth come in frequent contact with beverages that contain sugar, the risk of tooth decay is increased.
Give out non candy options to trick-or-treaters.
Consider handing out non-candy options to keep the fun going long after Halloween. Small inexpensive toys such as festive pencils, erasers, spider rings, pirate eye patches, vampire fangs, glow sticks, bubbles and stickers are fun alternatives to candy.  They are also great options to hand out for children who may have food allergies.
Set a limit and sell the rest!
Set a limit on the number of treats that your child can keep.  Consider offering to buy back or exchange the rest of their candy for a fun toy.  You could offer one dollar for every 25 pieces or pound of candy.
Brush and floss before bed!
Halloween night can be a very busy and exciting, but whatever you do, don't let your young ones go to bed before brushing and flossing their teeth. Just like with every other day of the year, kids should brush their teeth for at least two minutes, twice a day and floss their teeth once a day.
We hope you have a fun and safe Halloween! Just be sure to keep your oral health in mind to keep the "Sugar Monsters" away!