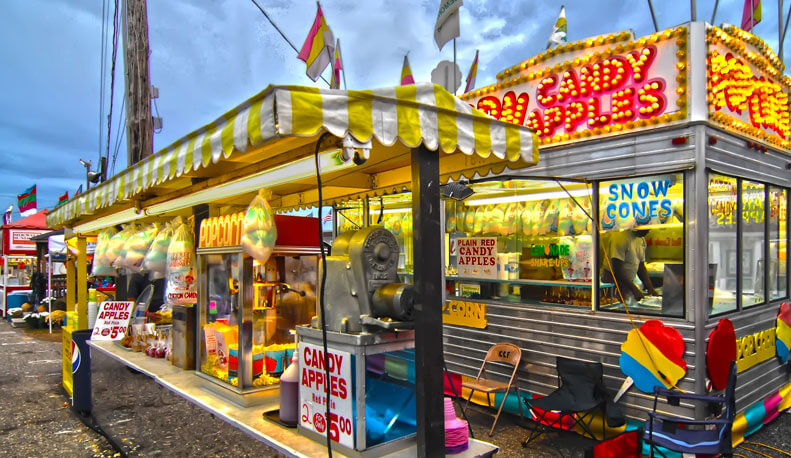 7 Tips For Making it Through the State Fair Cavity Free
August 24, 2018
Each August, Minnesotans from all around our great state gather together in St. Paul to enjoy twelve days of fun-filled rides, delicious food, and homegrown entertainment.  We wait with anticipation for the list of new foods to be released but I bet most of us never consider the oral health effects. Below are some tips and tricks for making your trip to the state fair as "tooth-friendly" as possible.
Tip 1: Drink water thought out the day and after you eat
Not only does it keep you hydrated, water helps to rinse debris from between your teeth and wash away sugar and acid that can lead to tooth decay.
Tip 2: Avoid super sticky foods
Taffy, caramels, hard candy and other sweets stick into the grooves of your teeth and between your teeth, increasing your risk of cavities. The longer sugar has contact with the bacteria in your mouth, the more acid there is to eat away at your enamel.
Tip 3: Work in some healthier options
Try choosing fair foods that are friendlier to your mouth like meat and veggie kabobs, roasted nuts and salads. Fresh fruit and vegetables, even fresh roasted corn on the cob, can help "wash" sugary foods off of your teeth.  Eating some dairy, such as cheese or milk, can also help to neutralize the cavity causing acids in your mouth (and wash down those Sweet Martha's cookies).
Tip 4: Chew gum
Chew sugar-free gum in-between snacks or meals as a good short-term solution to clean your teeth.  It helps to increase the flow of saliva, which washes away food and other debris and neutralizes cavity causing acids produced by bacteria in the mouth.  Plus it keeps your breath fresh!
Tip 5: Bring floss
Between pork chops on a stick, corn on the cob and turkey legs tempting your taste buds, it's likely you may get food stuck between your teeth. A quick floss session can help! Make sure put some in your pocket or purse so you are prepared.
Tip 6: Brush your teeth
Brush your teeth as soon as you get home.  You may be tired and ready for bed but the sooner you destroy the sugar bugs, the better off you are!  Or consider a packing travel tooth brush and tooth paste in your bag so you can brush at the fair and indulge in all the garlic fries you want!
Tip 7: Stay prepared
You never know when a dental emergency might arise.  Save the phone number of your Park Dental practice in your phone just in case.
We hope you check out the state fair and all the unique activities it has to offer. Just be sure to keep your oral health in mind so you can leave with great memories and a healthy smile.