We Invest in Your Oral Health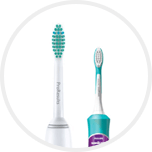 If you're looking for a new dentist, we have an offer for you. Become a new Park Dental patient before November 3, 2018, and we'll invest in your oral health by giving you a free Sonicare® EasyClean toothbrush (an $89.99 value).
The Sonicare electric toothbrush's unique cleaning action gently and effectively reaches deep between teeth and along the gumline. Its patented Sonic Technology removes up to two times more plaque than a manual toothbrush. In addition, the Sonicare EasyClean provides outstanding teeth whitening – removing and reducing stains on your teeth for a whiter, brighter smile.
This offer is good at all Park Dental practices in the Twin Cities, greater Minnesota, and western Wisconsin. Simply download the form below, mention it when you make your appointment and bring it to your exam. Every new patient receives one, so bring your spouse, your kids, heck, even your neighbors.
When you become a Park Dental patient, you'll discover a more enlightened approach to dentistry. We're all about convenience and helping you attain optimal oral health. With practices throughout the area, there is sure to be a location within a short drive of your home or workplace. We know it's not always easy to see a dentist during the day, so virtually all of our practices open at 7 a.m., and many remain open until 8 p.m., several nights a week.
Make your appointment today. We look forward to seeing you soon!